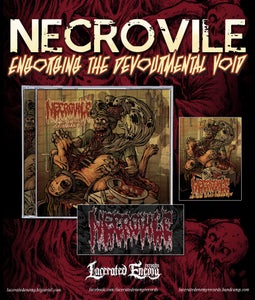 €

12.00 - On Sale
NECROVILE - Engorging The Devourmental Void CD
I Kill Therefore I Am
Flesh Exposed to Bone
Fresh Gutted Fuck
Psychedelic Exploitation of Skulls
Bloodstained Surgeons
Slaughterhouse Nemesis
Engorging the Devourmental Void
Gore Galore Abusement
Submit to Dehumanization
Disinterment Delirium
Consuming the Decomposed
Taking influence from death metal pioneers like SUFFOCATION, DEEDS OF FLESH and DYING FETUS coupled with intensity of bands like DISAVOWED, PYAEMIA, old VILE.
Featuring Kevin Foley of DISAVOWED and BENIGHTED on drums!
Cover art by Costin Chioreanu of TWILIGHT 13 MEDIA
PREORDER
Out 28th June 2013
Free album and logo stickers with every preorder!
Check out the official music video
https://www.youtube.com/watch?v=-MxxqhKKl58
DIGITAL PREORDER :
http://laceratedenemyrecords.bandcamp.com/album/necrovile-engorging-the-devourmental-void